Verification of single-source New Zealand wool: A major step in quality assurance.
19 March 2019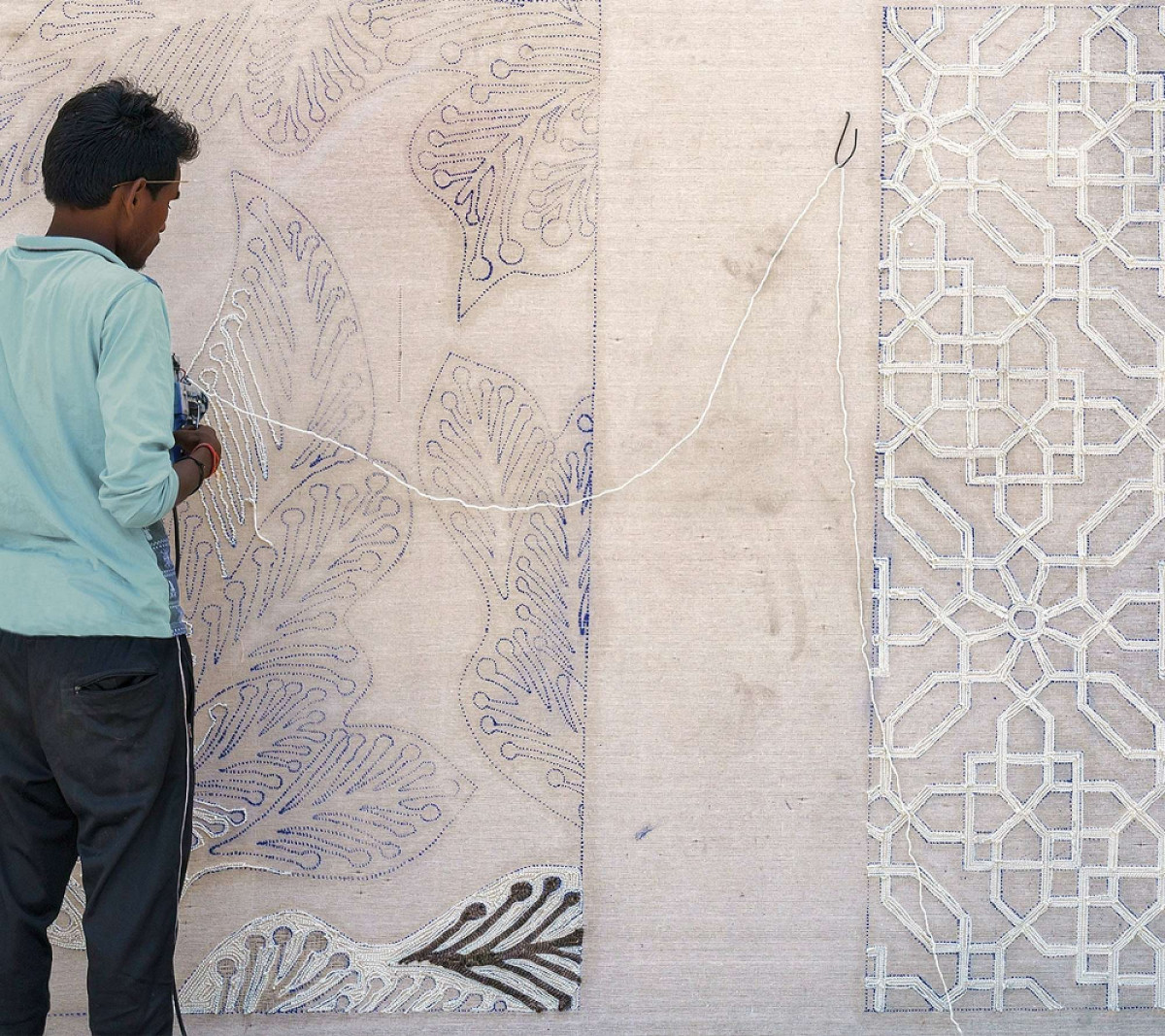 In a major step to proving the origin and purity of natural fibers in luxury furnishings, the eye heart hand collaborative has announced a new partnership with scientific traceability company, Oritain.
The partnership will see Oritain and the eye heart hand working together to protect the integrity of the New Zealand wool used in eye heart hand's handmade, GoodWeave®-certified rugs. The first round of auditing proved highly successful. The collaborative is now able to verify the origin of their rugs and the associated claims bestowed by wool from High Peak Estate farm in New Zealand.
Press Release: 19th March, 2019
Using forensic science, Oritain analyse the naturally-occurring chemical properties in a product to verify where it comes from.
Working closely with eye heart hand, Oritain identified the unique chemical properties of the New Zealand wool from the Perendale sheep at Guilds' High Peak Estate and used this information to generate a natural chemical fingerprint of that wool. Linked specifically to the environment in the mountains on the South Island of New Zealand, this fingerprint cannot be altered, copied, or adulterated.
"In transforming the extraordinary wool from the Guilds of High Peak Estate New Zealand into field-to-fiber rugs that I design, we want to ensure that the wool that Hamish Guild selects is the only wool that makes it into our rugs," said eye heart hand co-founder and lead designer, Kate Spain. "Thanks to Oritain, the wool at each step of the process can be tested and traced back to the Guilds' High Peak Estate. In that way, no inferior fibres can get mixed into our rugs without detection. If the wool doesn't pass the test, it won't be used in our rugs. We stand by that, which is why each eye heart hand rug is signed by me, by Hamish, and by the GoodWeave-certified rug maker in India."
With New Zealand's high animal welfare standards and regulation, their reputation for good quality, strong wool isn't just down to the quality of the fibre – but also includes the farming practices underpinning it as well. All this makes it a lucrative target for fraudsters. It is estimated that up to 200 million kilograms a year of imposter "New Zealand wool" make it into the global market. This has damaged the price of strong wool from New Zealand, adding an extra burden to one of New Zealand's traditional, sustainable agricultural practices – open-range sheep-wool farming.
The special qualities of New Zealand wool are widely known. The eye heart hand collaborative identified New Zealand wool from healthy flocks in sunny, rugged, pure, and grassy mountain meadows as ideal, notably for these qualities:
Natural whiteness and luster of the wool (for luminous color and richer hues).
Long staple (for durability and minimal shedding).
Helical strength (for lasting resilience).
Smoothness (for a consistently luxurious texture).
The eye heart hand collaborative demonstrates the value of traceability in luxury field-to-fibre furnishings. "Making products' provenance visible and verifiable empowers conscientious consumers to know what they're really getting," stated Pete Spain, co-founder of eye heart hand. "Not only in terms of the product's extraordinary qualities, but also in connecting the end user to the people, places, and ethos that created this origin-verified product."
Hamish Guild of High Peak Estate added, "We're very pleased that the wool in the eye heart hand rugs is traceable to our farm and our ethical, responsible, and sustainable practices. As a country and people, we New Zealanders hold the belief in 'Kaitiakitanga' meaning guardianship and protection of the land for future generations. This collaboration is committed to that."